Wales Fans in Tenerife for World Cup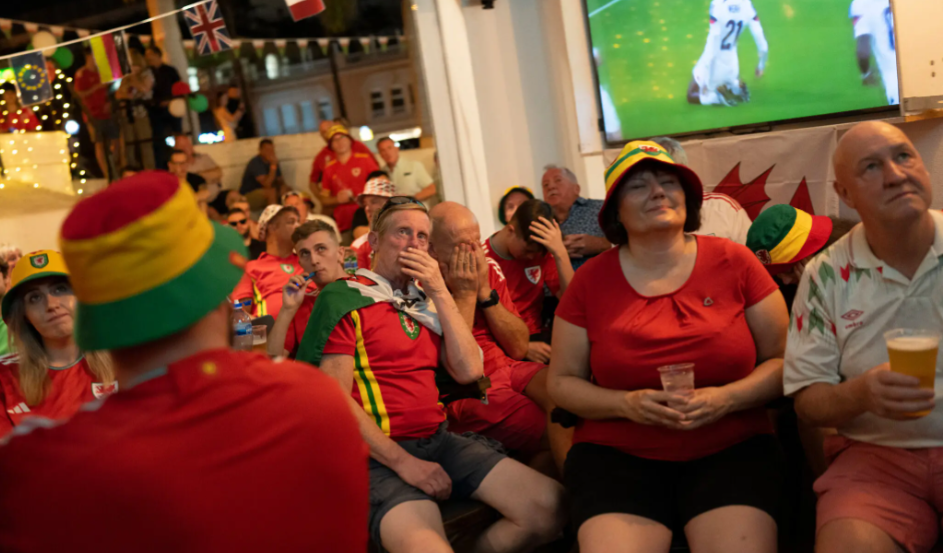 Source: NY Times
TENERIFE, Spain — Bethany Evans's first experience watching Wales in the World Cup had many of the key components she had always envisaged. By her side were her friends and father, Mark, 59, with whom she has followed Wales over land and sea. Around them, Wales fans were decked out in the country's red jerseys and bucket hats and draped in dragon-crested flags, all of it underscoring the supporters' nickname: The Red Wall. And then there was alcohol — lots and lots of alcohol. Its absence has been a major subject of discussion since Qatar's decision to ban beer sales in the tournament's stadiums.
But it was being served unabashedly here, as fans chanted, jumped and hollered their way through a pair of sunken bars off the corner of a street in Tenerife, in the Canary Islands. "This has been really amazing to plan," said Evans, 25, a health and safety manager from Pontypridd, in South Wales, whose summertime tweet suggesting a viewing party on this island blossomed into something more than she could ever have imagined. While Evans's original dream was to attend the World Cup in Qatar itself — Wales has qualified for the first time since 1958 — she said a combination of cost, circumstance, rules and moral questions ruled that out. Instead, she and thousands of fellow Welsh fans have opted to make this affordable party island some 4,000 miles away from Qatar their home for the tournament.
Fans have been arriving in Tenerife this week by the thousands, hoping for the kind of sun-kissed World Cup celebration they have always craved — on their terms, and on their budget. "I'm just gutted that the first time we get to the World Cup, it's not one for the working man," said Lee Chamberlain, 50, a painter and decorator from Mold, North Wales, referring to Wales' first appearance in his lifetime. Chamberlain said a travel agent presented him with two options: three or four days with tight purse strings (and drinking rules) in Qatar, or 10 days at one of Tenerife's nicer hotels, all inclusive. It was a no-brainer, he said. That supporters from a tournament-starved nation like Wales have been deterred, en masse, from heading to Qatar speaks volumes about the motives of soccer's powers that be, many Welsh fans said.
Other than Qatar, which gained automatic qualification as the host nation, Wales has spent the longest time absent from the World Cup of any of this year's competitors, last qualifying 64 years ago, when coverage was more difficult and traveling fans were practically nonexistent. "It made me very proud to think I was there to see them," said Les Thomas, 90, from Kerry, who was able to attend a game in at the World Cup in Sweden in 1958, when he was serving overseas with the British navy.
Thomas said he saw only a tiny pocket of Welsh fans at the opposite end of the stadium that day. Over the decades that followed, that tournament — and those who attended and played in it — gained mythical status in Wales, a hilly nation of about three million people. Generation after generation failed to qualify for the next major championship on the horizon, culminating in the low of 2011, when Wales had fallen to 117th in the world, behind nations like Guatemala, Guyana and Haiti. Editors' Picks How Is Everyone Making Those A.I. Selfies? 36 Hours in Wellington, New Zealand Hearty Beans, Tender Lamb and a Menu to Remember Image.
But as Wales continued to mine generations of talents from those depths, though, new stars like Gareth Bale and Aaron Ramsey emerged. They and their teammates reached the semifinals of the European Championship in 2016, and qualified again for next edition that was played last summer. All along, optimism about reaching Qatar was growing.
After Wales dispatched Ukraine in a World Cup playoff in June to seal its place, an ecstatic Evans began weighing her options.
"With football, I know it's perhaps bad to say it, but you've got to have a drink, and you've got to have a good time as well," said Tyrone Fowler, 28, a food delivery driver from Newport, South Wales, who was headed to Tenerife this week. "It's about building the atmosphere."
During Monday's opener against the United States, Welsh fans in palm-lined Costa Adeje found touches of home in and around adjacent sister bars, The Original Wigan Pier and La Flaca, which at Evans's request had agreed to host fans and put Wales games on its TVs.
Cocktails had been given Welsh names, and the Welsh flag covered many of the bar's walls and the trees outside. In one corner, a catering company had brought in food, while extra beer had been ordered to accommodate more than 400 attendees who could fit into the two establishments. Beer, at a only couple of euros, was far cheaper than the reported $14 for a half liter in Qatar.
An estimated 3,000 Welsh fans are expected in Tenerife over the next week or so, filling bars and restaurants in Costa Adeje, nearby Playa de las Américas and other coastal towns dotted across the island.
On Monday night, when the final whistle blew on a 1-1 comeback draw with the United States, Wales fans, relieved, rose to their feet and sang their adopted anthem, "Yma o Hyd," a folk song released by the nationalist singer Dafydd Iwan in the 1980s that translates to "Still Here."
For Evans and those around her who later spilled out into the night, Tenerife may not have been Qatar, but it could have been anywhere, really, as long as it looked and felt this good.
"It is just a family event," Evans said before the game, reflecting on how her simple suggestion had brought so many like-minded fans to this sunny island 1,700 miles from home. "You might not know them, but, in a way, you still do."