Spend the Perfect Weekend in Tenerife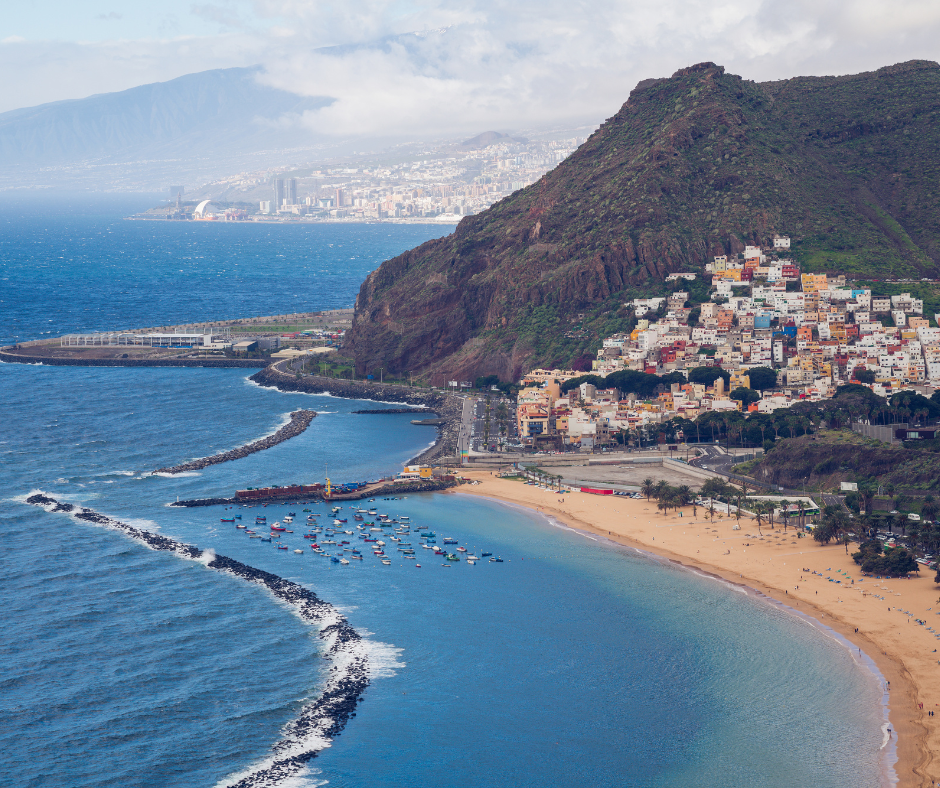 Source
Source: Inside Hook
With summer already here, let's take a look at how to spend the perfect weekend in Tenerife. We'll discuss where to stay, eat and play on the largest island of the Canary Islands archipelago. 
While administratively and culturally part of Spain, The Canary Islands are geographically closer to Western Sahara and Morocco. With five million visitors annually, Tenerife is the largest and most populous of the eight inhabited islands. Along with Las Palmas in neighboring Gran Canaria, the island's largest city, Santa Cruz de Tenerife, shares duties as an administrative capital of the islands.  
Tenerife is a Spanish adaptation of the native inhabitants' words teni (mountain) and ife (white). At 12,188′, Mount Teide is by far the highest point in the chain of islands. Tenerife's variegated landscapes, black sand beaches, upscale dining options, low sales tax and bombastic Carnival celebration are just a handful of the reasons Brits, Germans and tourists from the mainland flock here every year by the millions.
How to Get to Tenerife
Tenerife has two airports. North and south (or Norte and Sur) are 65 kilometers apart, with Aeropuerto de Tenerife Sur (TFS) being the larger of the two. While most North American travelers will have to connect in Madrid or another Spanish city, United has a direct summer route from Newark from late June to early September. The direct flight is just over seven hours to Tenerife and eight heading back. There are ferries that connect to other islands, including Gran Canaria and La Palma. 
 
Where to Stay in Tenerife
Where you stay in Tenerife depends on what kind of traveler you are and the time of year you are visiting. For example, Santa Cruz hosts one of the world's largest Carnival celebrations early in the year. If you're visiting during Carnival, you'll want to stay at a conveniently located accommodation like the Hotel Taburiente. From there, walking to local restaurants, coffee shops and smaller museums is easy.
British tourists have been flocking to Tenerife since before the days of swinging London. To get a sense of this, use the Hard Rock Hotel Tenerife as your base in the south. It's less than 30 kilometers from TFS airport, and it's the kind of place where you'll have plenty of options within the property, but you can also get out and explore the surrounding area if you wish.
Music fans in particular, should appreciate the series of Beatles photographs outside the buffet entrance. Yes, three of the fab four visited Tenerife on holiday in the early days. And if you want to practice "Twist and Shout" or any other Beatles classics on guitar, the front desk can send a Fender guitar and amp up to your room. Of course, if you prefer to just listen on vinyl, that's also an option. You only have to give a deposit, which they'll refund unless you pull a Pete Townshend or Jimi Hendrix and return the guitar in pieces. 
What to do in Tenerife
At 12,198 feet (3,718 meters), Teide Peak is the highest point in Spain. Teide National Park is one of the island's top attractions. And thanks to the cable car, it's easy to enjoy for all fitness levels. The seven-minute cable car ride will take you from 2,356 meters at the visitor center to 3,555 meters. Once there, you'll find some brave souls hiking to the top.
Tenerife is really best suited to manner of nature lovers. With that said, a whale-watching excursion can be an ideal afternoon getaway into the Atlantic. If you're looking for a more up close and personal aquatic experience, kayaking, scuba diving, and paddle boarding excursions leave from Santiago del Teide seven days a week.
Santa Cruz is where the world's second-largest Carnival celebration takes place. It's best to keep that in mind when planning your trip. For more than a week, celebrations take place all over the city, especially in the evening. Whether you are visiting during Carnival or not, you can check out Casa del Carnival, which includes encased outfits from past celebrations as well as ones for children to try on. There's also a video display with past parades, though even they don't capture the full magnitude of the celebration.
Shopping in Tenerife
While people don't go to Tenerife for shopping or wellness per se, there are local markets, upscale malls and car-free shopping streets to take in during your visit. The fact that ZAC (Canary Islands Special Zone) sales and service taxes are a fraction of what they are on the mainland can make shopping a worthwhile endeavor for at least an afternoon.
It's best to try and combine your shopping with a leisurely stroll along one of the villages or cities on the island. La Laguna is the only World Heritage City in the Canary Islands. Named after a lake that disappeared, the cobblestone streets and brick roads have several shops mixed in with the small museums and cafes. La Laguna also has the added benefit of the 27-stop, 2-line Tranvía de Tenerife, which is the local tram that connects the two main cities. 
If you're looking for somewhere more laid back (by island standards), check out the hilly town of Orotava. In the southwest hotel area, you'll find several indoor and outdoor malls between Los Cristianos and Armeñime. 
The Hard Rock Hotel Tenerife has the Rock Spa, which hotel guests can access for 25 Euro (35 for non-guests). Individual treatments range from 45 Euros for hands and feet to 195 for deep tissue. If you prefer to stay in your room, there are yoga videos available as part of their Rock Om program. The staff will send what you need at no additional charge.
Where to Eat and Drink in Tenerife
You'll find most of the upscale dining options in Santa Cruz, which is the island's largest city and administrative capital. With that said, there are several notable hotel restaurants you can enjoy without being a guest of that particular property. Most of those are in the south.
Restaurante Muelle Viejo is a coastal seafood restaurant close enough to the water that you can smell the saltwater as you dine. The fish is on display near the dining room entrance, and many menu items, including drinks, have the word "Canarian" in the description, so you know it's specific to the area.
If you're planning to visit Teide National Park, Parador de las Cañadas del Teide is a must. Even if you're not spending the night, the food is excellent, and the views will make you want to eat and drink at a slow pace. The dining room is more upscale, with white tablecloth and well-dressed servers.
There are more than 20 different grape varieties grown on the island of Tenerife. Bodega El Lomo is a local Canarian winery north of La Laguna. They offer experiences ranging from vineyard tours to tastings and even customizable experiences. The property is high enough that you can see the ocean from one side and mountains to the other. For a local experience, try the pairing. While there's no set menu, it's a chance to offer local meats, cheeses and even a dessert.